Helping your clients to live their best lives with our mobile physiotherapy service.
Schedule a consultation today!
Our mobile Physiotherapists come to them
Delivering a range of physiotherapy treatment techniques in the comfort of your client's home to help them move and feel better.
What is Mobile Physiotherapy?
Our team of mobile physiotherapists are focused on enabling your clients to live their best lives. Physiotherapists as a profession are experts in the structures of the human body and its movements. They are experienced in assessing, diagnosing and managing the care of our clients across various conditions (see conditions treated). At Own Body, we work with people of all ages to understand how their body's abilities and limitations, their habits and lifestyle are holding them back from achieving their own body's potential. Our treatment plans can assist to improve your client's movement, strength, balance, fitness and endurance as well as help to reduce their pain.
Our treatment session may include:
Exercises
Advice
prescribing aids (e.g crutches or frames)
referring to other professions or specialists
lifestyle advice for self-management
pain reduction strategies
carer training
occupational health assessments
injury prevention strategies
liaising with other professionals such as referrers or care managers
Our Physiotherapists regularly undertake professional development including courses, mentoring and peer support to enhance and develop an ever-expanding skill set best suited to aid our clients in achieving their goals in the comfort of their own homes.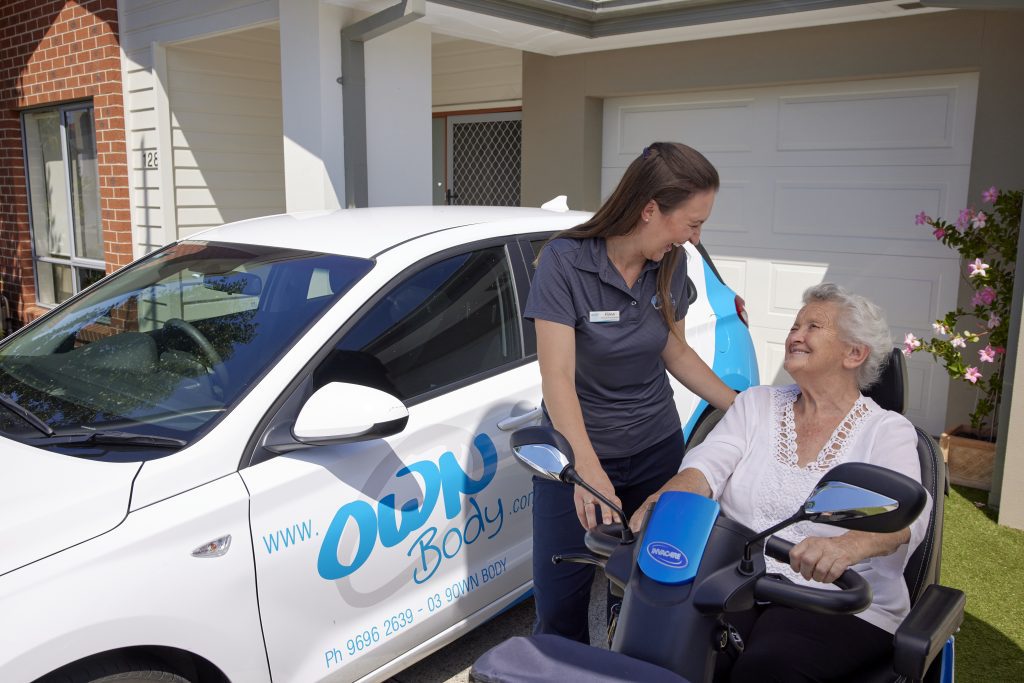 Mobile Physiotherapy Services
Mobile Physiotherapy vs Physiotherapy in a Clinic
Whilst there are many benefits to having your Physiotherapy in a clinic, not everyone can get there or feels comfortable in a clinic environment. Mobile physiotherapy gives your client the benefit of convenience and comfort, but that's only the beginning. By having us come to them, we can assess them within their own space and clearly understand how their condition or injury impacts their daily lives. This allows our Physiotherapists to optimise their treatment and support to the client's space and lifestyle. For example, if we're prescribing some exercises as part of their treatment, we'll be able to incorporate features of their home, such as stairs, beds or benches, as their exercise equipment.
Benefits of Physiotherapy
Own Body Physiotherapists are experienced in treating injuries, reducing pain, falls and balance training, helping clients heal after surgery, and improving their strength and endurance. Our treatment plans are designed to help your clients improve their quality of life.
We are passionate about aligning our services with our core values. We invite you to contact us for further information or arrange your first home physiotherapy session for your client.
What Conditions Can Physiotherapy Help With
Own Body Physiotherapy can offer a wide range of services to adults aged 18 years and over: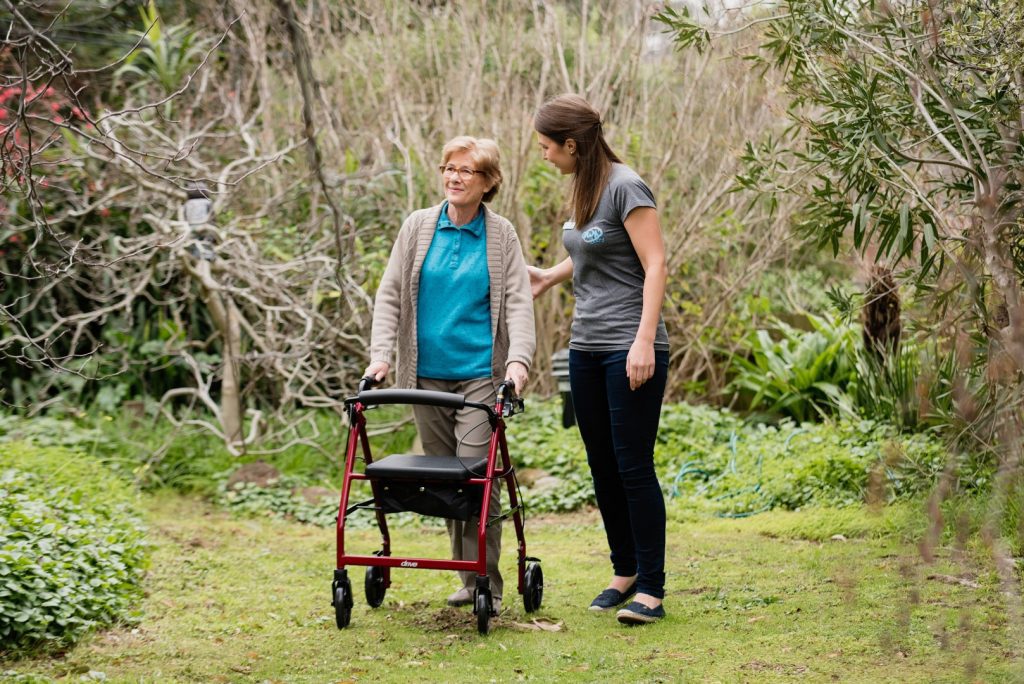 Our convenient in-home appointments enable us to understand better your clients, their limitations, their environment and how we can help. By assessing their physical abilities (strength, movement, balance etc.), we can form a plan to help them move and live more easily. By incorporating these physical assessments with their personal experience, history, habits, responsibilities and goals, we work with them to create a holistic treatment plan and find solutions to help them achieve their goals.
We can also prescribe aids and appliances, refer to other healthcare specialists and coordinate with your client's healthcare providers for a truly holistic service.
Mobile Physiotherapy Treatment
What to expect from our first appointment?
Our clinicians will sit down with your client to understand them and their challenges. We will ask about their current and past injuries, medical conditions, goals and personal experience that is relevant to helping or hindering them from achieving their goals. We will address their questions and concerns and focus on what is most important to them in the short and long term. In most cases, their therapist will commence treatment and leave them with some simple written advice or exercises to undertake before their next appointment. Most importantly, they will be treated as an individual, not a number!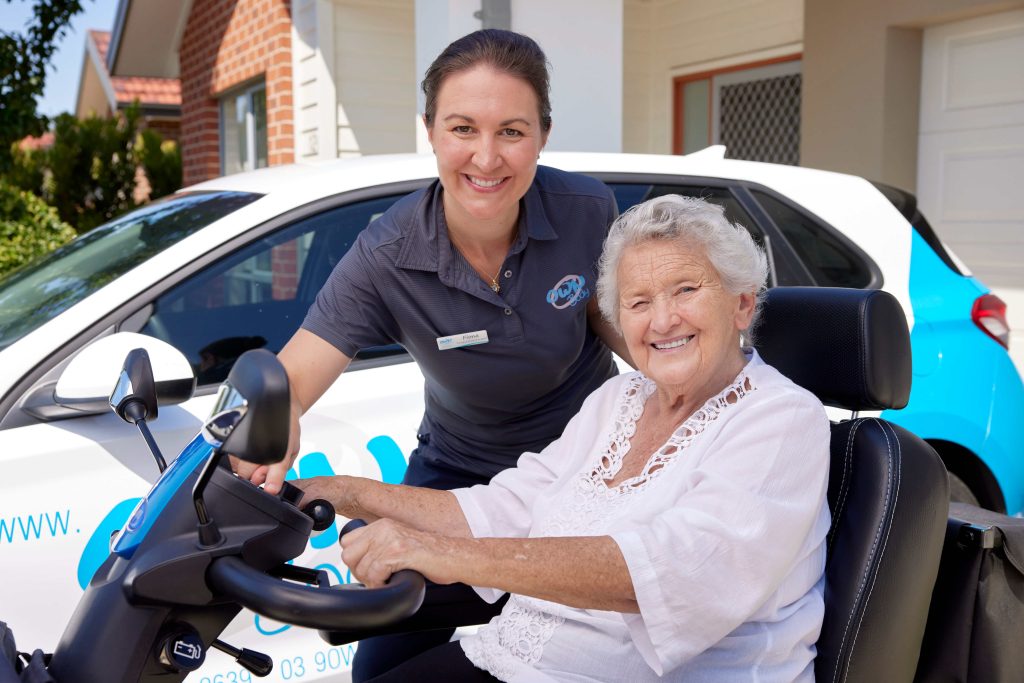 Answering common questions about physiotherapy. If you have more questions about physiotherapy, please send us a message.
Mobile Physiotherapy that meets our clients where they're at
Our experienced Physiotherapists, OTs, and Podiatrists will come to your client's home, work or other suitable location to deliver their treatment.
Our team will come to them whether they're in